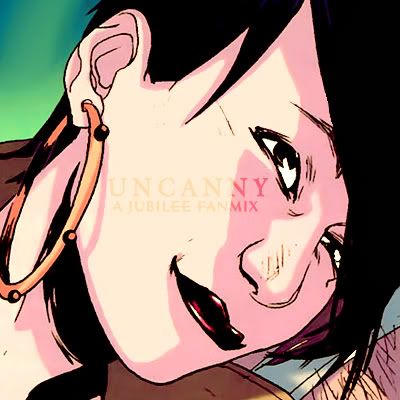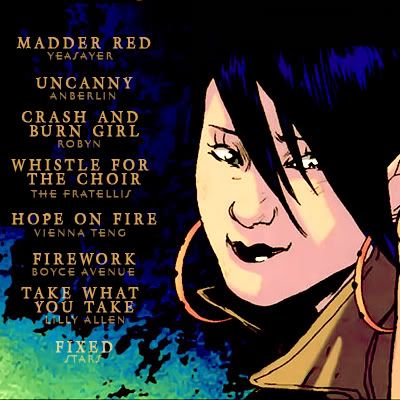 Uncanny
A Jubilee Fanmix
Madder Red – Yeasayer
Maybe I've been gone. Please don't ask me why. I turn away just when you want me, and I know that home is where you want me. There's not much for me there.
Uncanny – Anberlin
Beside me, to remind me. Did you ever think this far behind me, you would see the world for what it was, and who we really were?
Crash and Burn Girl – Robyn
You don't mind the fall until your face hits the ground, crash and burn girl.
Whistle for the Choir – The Fratellis
So if you're lonely why'd you say your not lonely? Oh your a silly girl, I know I hurt it so, it's just like you to come and go. You know me, no you don't even know me. Your so sweet to try, oh my, you caught my eye. A girl like you's just irresistible
Hope of Fire – Vienna Teng
Gotta leave, gotta bleed, you've gotta stop lying still 'cause this is no kind of life. You don't need guarantees, you just want something to build.
Firework – Boyce Avenue
Do you know that there's still a chance for you. Cause there's a spark in you.
Take What You Take – Lilly Allen
Say what you say, do what you do, feel what you feel as long as it's real. I said take what you take, and give what you give, just be what you want, just as long as it's real.
Fixed – Stars
What you want, you are, you always were.
8 Songs + Cover Art